Musher snow socks - Size 4
UGS 3760255880204
Musher snow socks will be your essential ally to tackle snowy and icy roads with complete confidence.
• Optimal grip on snow and ice
• Universal compatibility for all vehicles
• Exceptional durability: 150 km on bitumen
• Complies with the Mountain Law and standard EN 16662-1
• Reusable and machine washable
• Made in France
Read more
Regular price
Sale price
149,00€
Unit price
per
4 times payment
Each Musher Pack contains:
A pair of over-tyres
A pair of gloves
A laying mat
A waterproof storage bag
Five pairs of sleeves
Free delivery

and within 24 hours on our site

All vehicles

From 13" to 22"

2 years warranty

compliant with regulations
View full details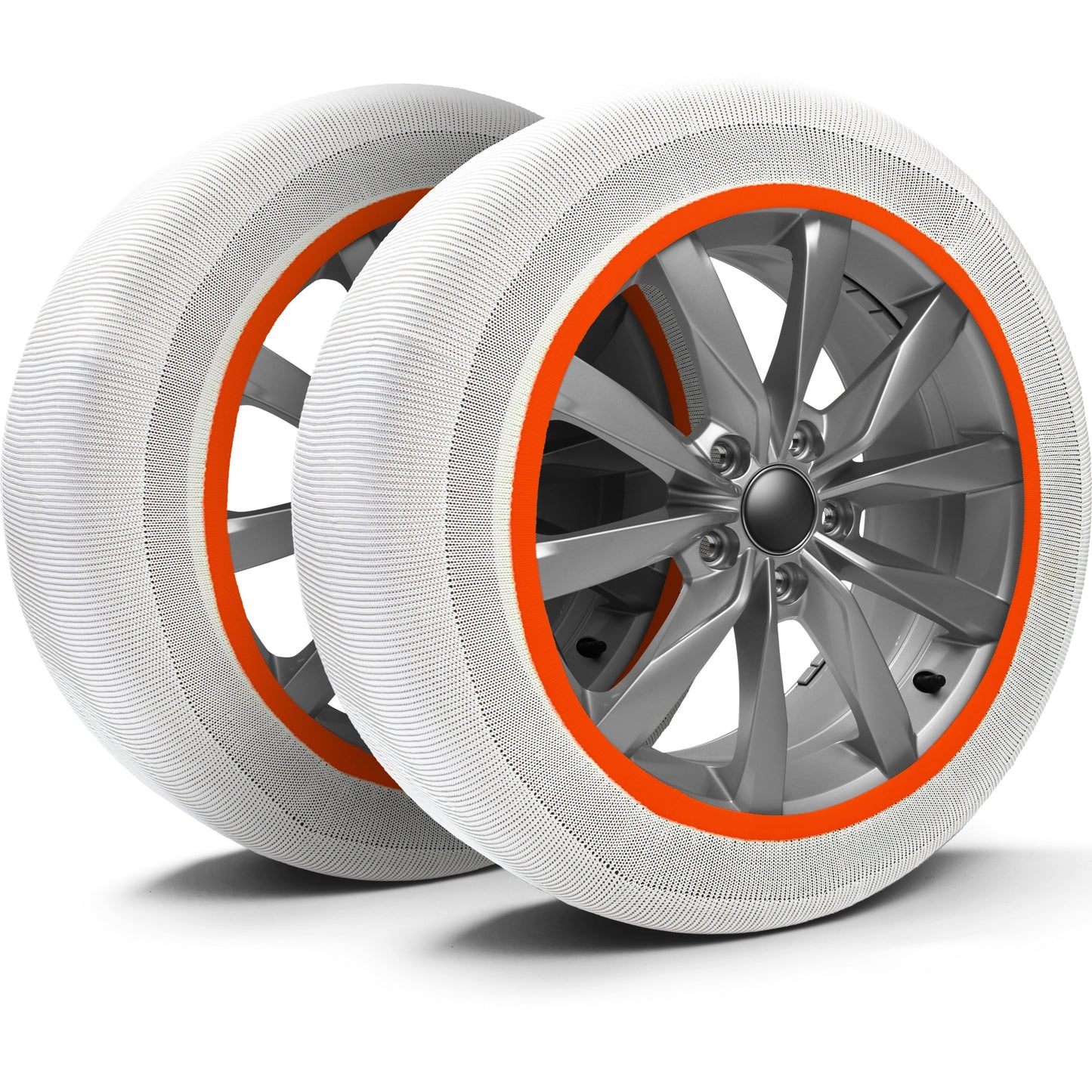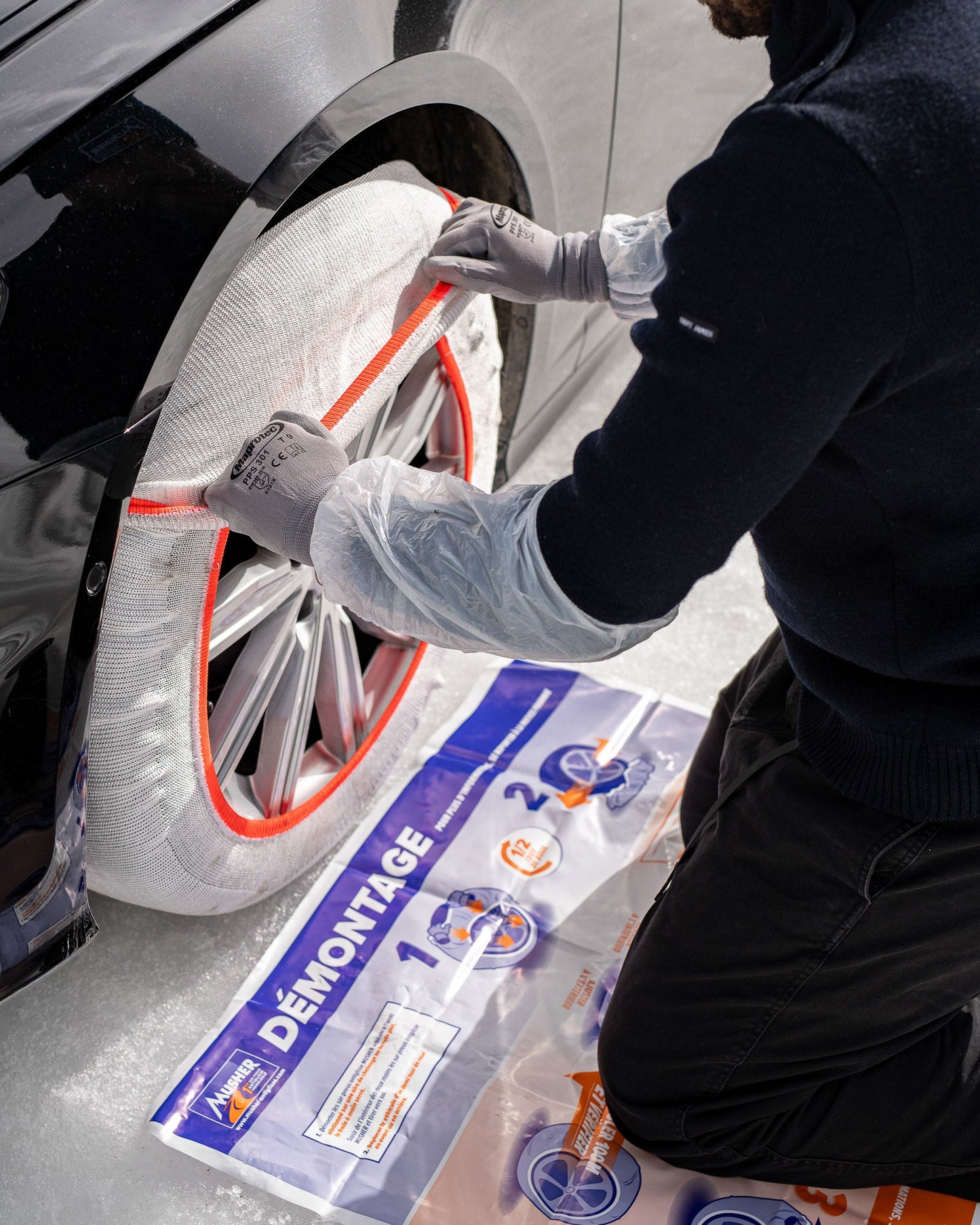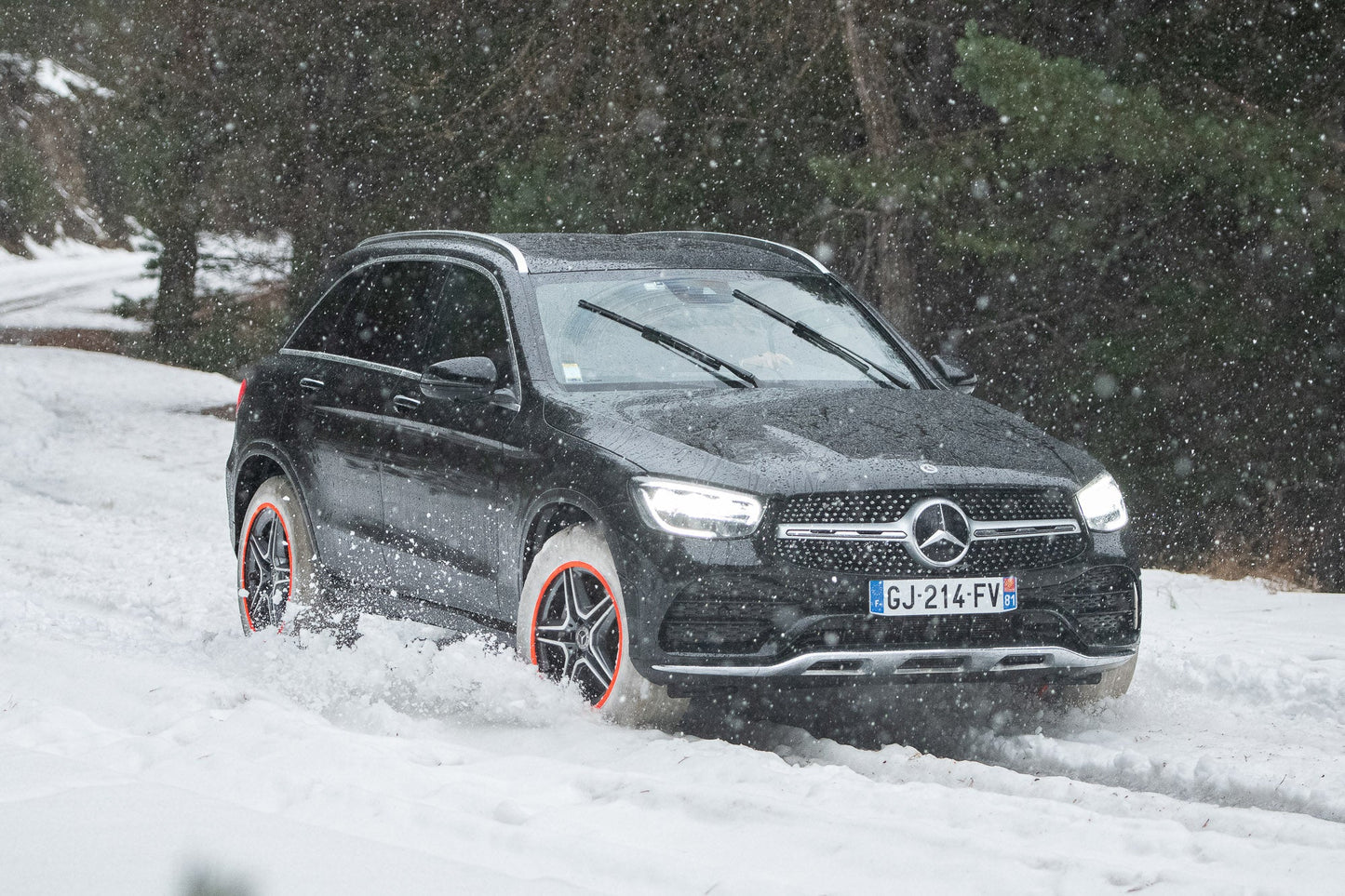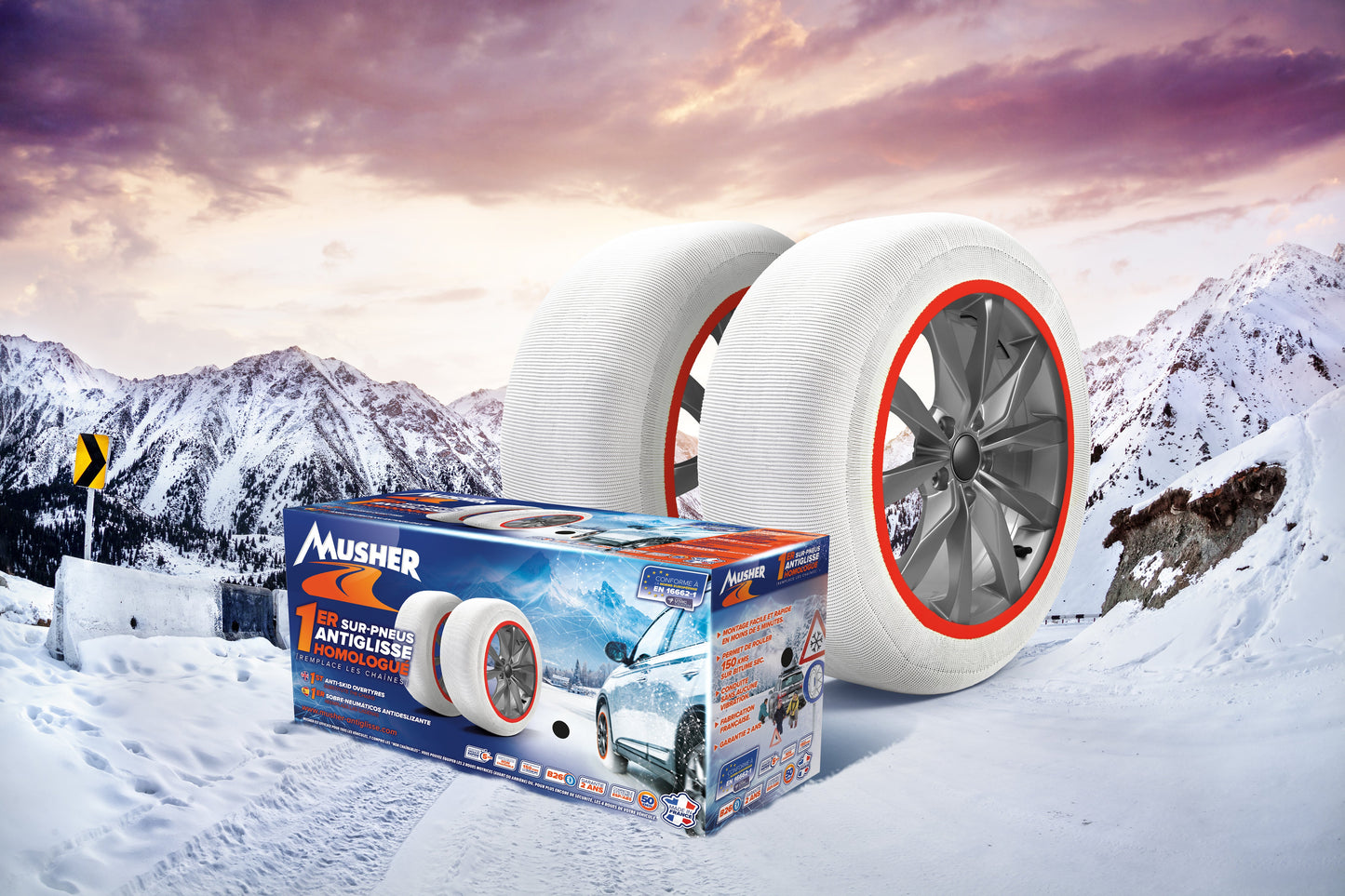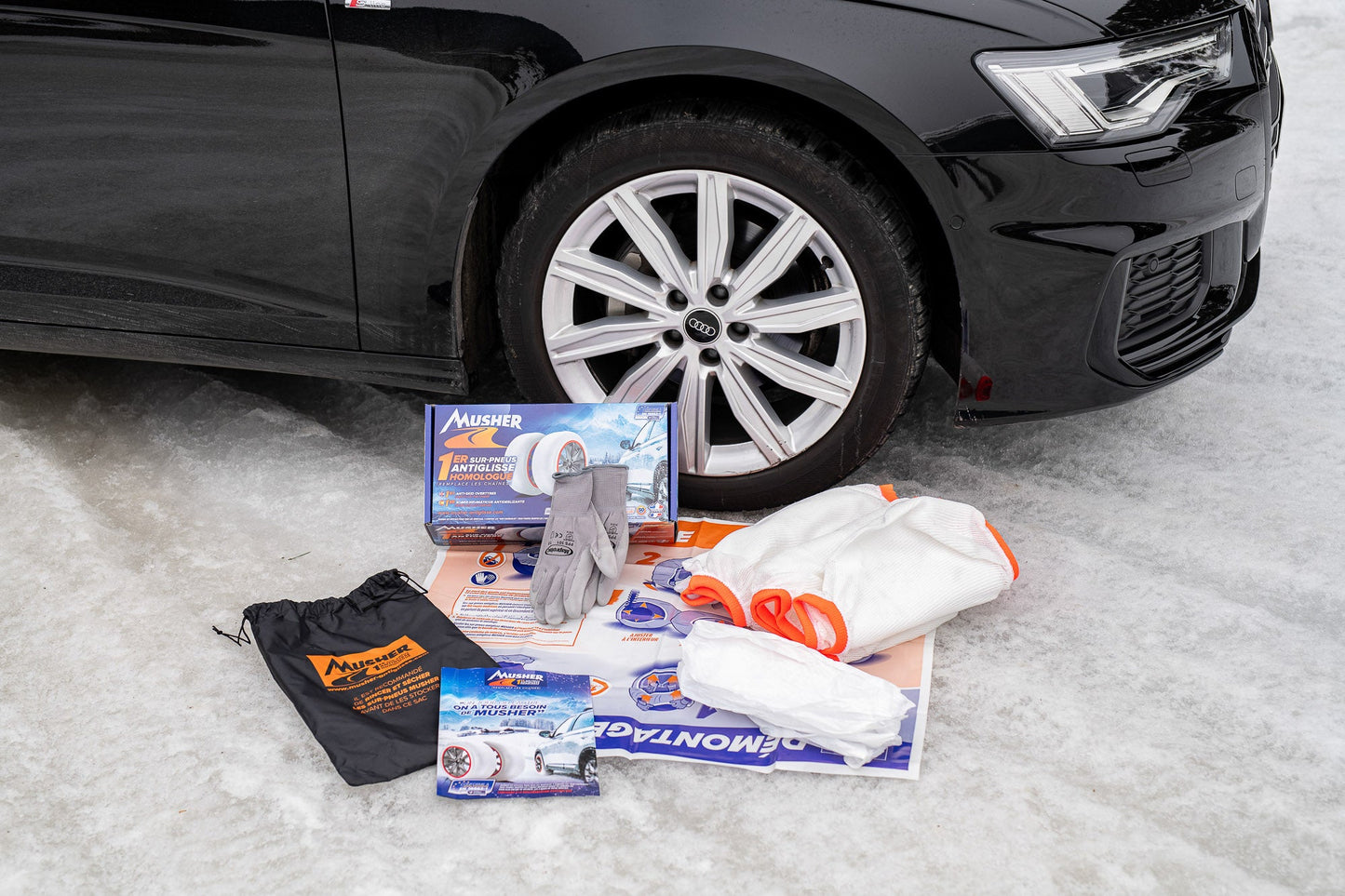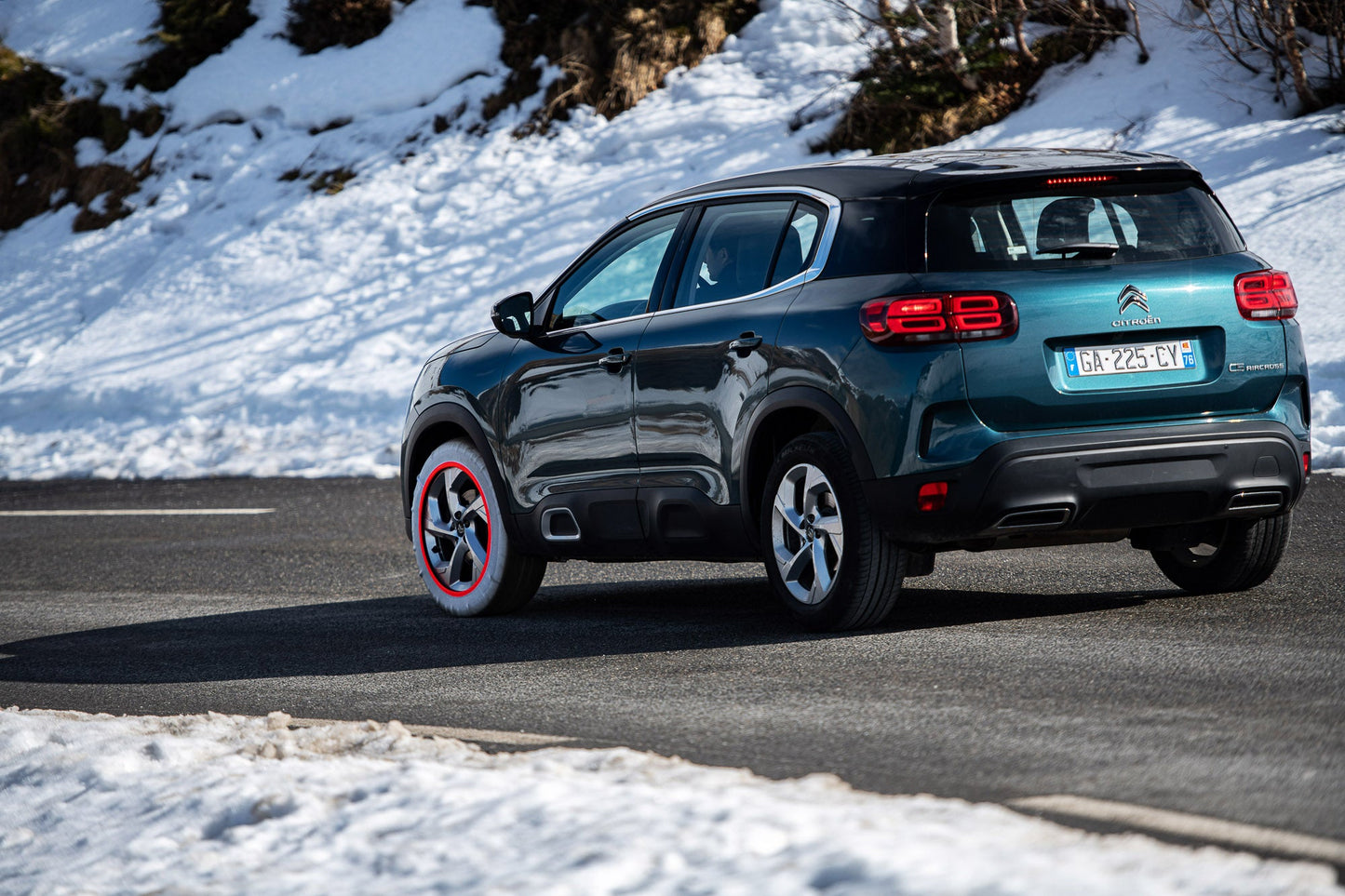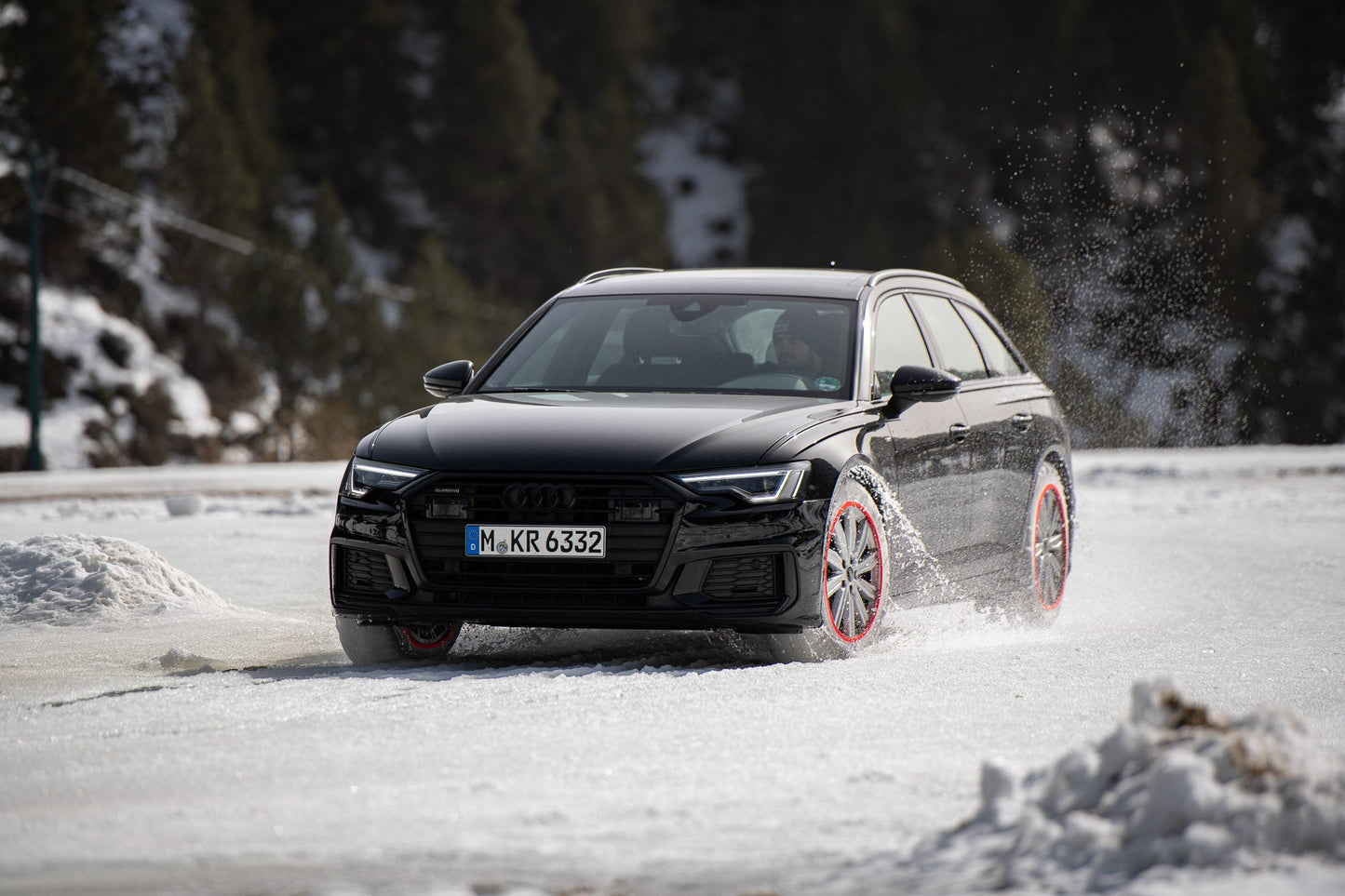 Cutting-edge technology: made in France
Musher technology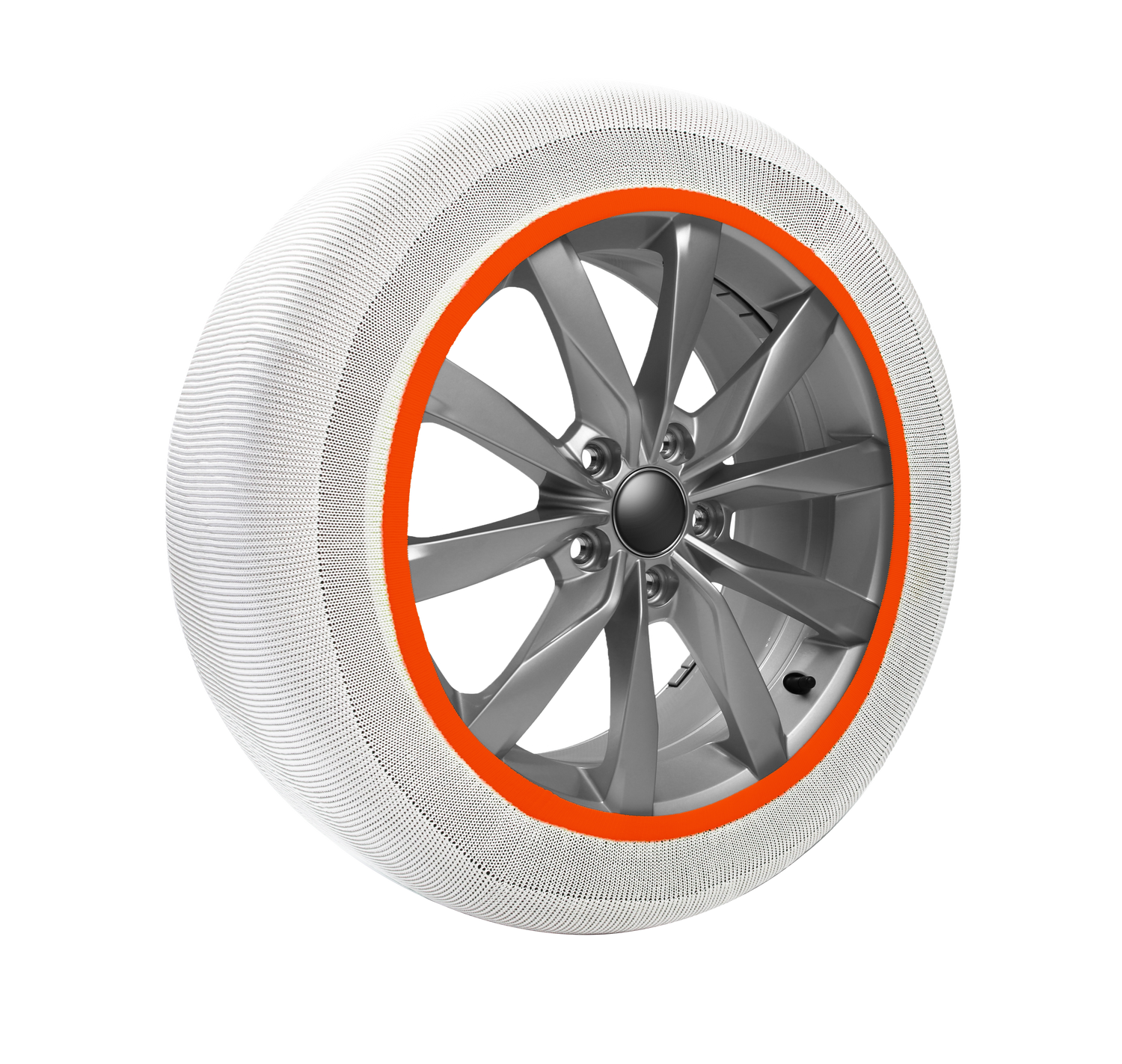 Shape memory technology
The Musher over-tire tread is a patented textile alloy composed of high-tenacity shape memory fibers. The tear-resistant composition and "chenille" knitting offer great resistance. This technology allows us to equip all vehicles from 13 to 22 inches without exception.
3D knitting
The Musher over-tire is designed around 3D shape memory knitting, without seams. This robust intermediate mesh links the tread and the side edge so that the sock fits perfectly against the side of the tire.
Smart envelope
The fluorescent side edging in lined elastane fiber ensures the automatic centering of the over-tyres on the tires to constitute an intelligent casing, easy to install and fixed on the tire.
Made in France, patented, and compliant with French and European road standards, Musher is a 3D knitted snow sock which offers optimal grip on snow and ice. Intuitive to install, Made of high-tenacity fibers, the Musher over-tire is the only snow sock that guarantees a lifespan of 150 km on dry asphalt. SUVs, sedans, electric cars, utility vehicles, non-chainable vehicles, motorhomes... Thanks to its shape memory technology, Musher adapts to all types of vehicles from 13 to 22 inches. These lightweight, space-saving, reusable and machine washable snow socks will never leave the trunk of your vehicle! The Musher over-tire is patented by the INPI and meets the EN 16662-1 standard.
All the materials that make up the Musher size 4 over-tire are 100% recyclable. By ordering on our website, you benefit from our fast and efficient after-sales service as well as our 2-year manufacturer's warranty.
In winter, driving on snow and ice is unavoidable, whether during daily journeys or when traveling to the mountains. To protect yourself against the dangers of a road tested by bad weather, follow these steps when approaching a snowy or icy road to equip your car with Musher over-tires in just a few minutes:

1. If you are on the road, stop your vehicle at a nearby safety area.
2. Take your 2 extra tires, which will be mounted on the drive wheels (front wheels for traction vehicles, rear wheels for propulsion vehicles)
3. Place the over tire on the top of the wheel, starting from the rear.
4. Get back behind the wheel and move the vehicle forward half a turn of the wheel.
5. Mount the second half of the over-tire onto the top of the wheel.
6. Drive for 100 meters to check the correct fit of the over-tires on your wheels.
7. Maintain a maximum driving speed of 50 km/h.
8. Ride peacefully on snow, ice and even dry asphalt without risk of tearing for 150 km!
To prevent the dangers associated with driving on snow or ice, the Mountain Law indicates the obligation to be equipped with approved snow chains or snow socks on certain roads. On the one hand, the tedious installation and discomfort of snow chains, and on the other, the snow socks which tear on contact with the slightest portion of dry bitumen, between two passes or under a tunnel. Usually, motorists must therefore systematically wait until the last moment to install their equipment and find themselves in safety areas saturated with other drivers in the same situation.
Musher snow socks are based on patented technology to allow you to ride up to 150 km in the dry, then continue with complete peace of mind on snowy and icy roads! In the Musher pack, you will find all the necessary accessories (laying mat, pair of reusable gloves, protective sleeves, storage bag) to mount and dismount your over-tyres in just 5 minutes. No need to wait until the last minute to equip yourself! Enjoy your winter journeys without constraints and in complete safety.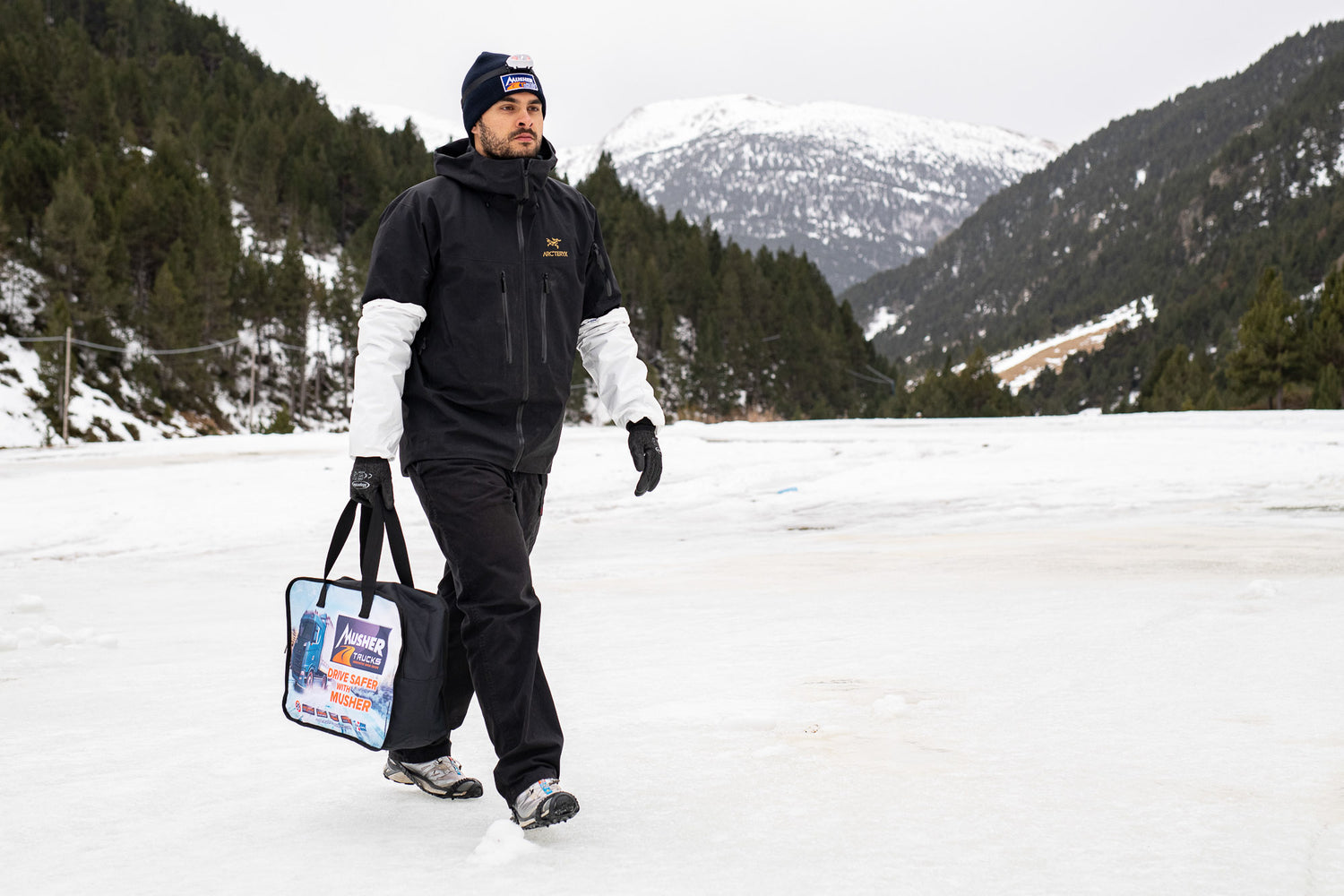 Family business
ABOUT MUSHER
Musher is a family textile company created in 2016 by Daniel Baïsse and his son Alexandre. With more than 40 years of experience in the safety and multi-risk clothing sector , Daniel Baïsse has developed an innovative and complete system so that motorists can travel peacefully on winter roads. Since then, Daniel and Alexandre have continued to work to promote the development of innovative and sustainable textile solutions in the automotive sector. Their latest innovation is Musher Trucks, the world's most durable snow sock for trucks and buses. Committed to the heart of its territory, Musher works with production units based in France and therefore participates in the revitalization of the textile industry in France, dear to the Baïsse family.
Discover our
Customers' opinion
Great !
Tested with 40cm of snow on an Audi Quattro (all-wheel drive) fitted with summer tires, then ice for several km and finally on dry roads for 20 km. I found the Mushers to be formidable in their efficiency. Easy assembly and reusable next season without worries.
Nothing to say
Product conforms to the description (size 9). Great professionalism of the company!! Very fast delivery and advice over the phone!
Alright
Very good explanations on the phone, very good advice and extremely fast delivery. Not yet tested… The responsiveness and customer service was so great that we will recommend Musher!